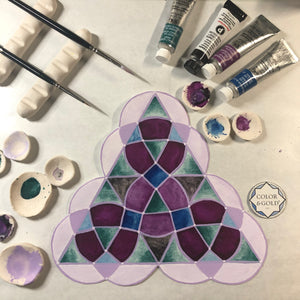 Color & Gold
Adding Color Sampler Private 40 Minute Zoom Class
This class is designed for people that want to learn about different ways to color their geometry drawings. I can show a very short intro to using using colored pencils, fine liners, markers, tube watercolors, pan watercolors, and gouache or we can spend the whole time using one or mediums.
This class can be used in conjunction with a private drawing class in which case we can both color the design we drew together. If you would like to color a design you learned from one of my earlier classes or on your own, I can give you a materials tutorial using a simple design that I will draw and offer suggestions on how you can color your specific pattern. If you have nothing to color, we can draw a simple design together at the beginning with our compass to color.

I will send you an email with the log in the day before class. 
Purchase of a session does not guarantee that I'll be free at anytime you were hoping for so if you want to text me @ 8476093507 to check my availability before adding to cart, I encourage you to do so :). 
Please let me know in the checkout which mediums you would like to experience and if you have a pattern already to work with.

Pease note this is a coloring drawing class. If you would like to learn to draw geometric patterns, please look at the other classes I have to offer.