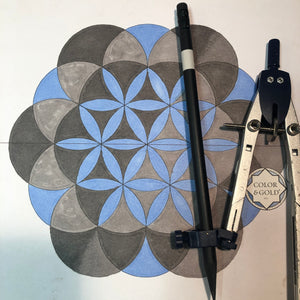 Color & Gold
Drawing Art Through Geometry Private 1 Hour Zoom Class
Please join me in drawing a lines and arcs to reveal an exciting underlying pattern. To prepare for class, please have a compass, straight edge/ruler, pencil, typing paper, eraser and any coloring items you like. 
I will send you an email with the log in the day before class. 
Purchase of a session does not guarantee that I'll be free at anytime you were hoping for so if you want to text me @ 8476093507 to check my availability before adding to cart, I encourage you to do so :). 
In an hour we can cover one or possibly two designs. Please let me know what you would like to learns before checkout.
Pease note this is a geometry drawing class. If you would like to color your design together, my Adding Color class is also available to to get you started.
* There is a lovely example of the construction for the image here in "Islamic Art & Geometric Design Activities for Learning" by the Metropolitan Museum of Art.