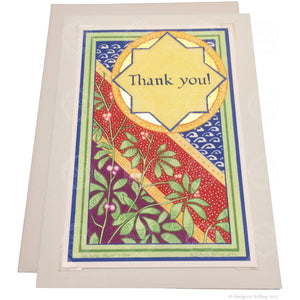 Color & Gold
Thank You Card Featuring Limited Edition "Rambutan Night"
These richly designed cards feature individually hand gilded 3.5"x5.3" Rambutan Night illuminations with 24 kt gold that are signed, numbered and mounted in photo corners for easy removal and framing. It's a card and a lasting gift! They come with matching A6 envelopes and are blank inside.
Each museum-quality illumination is made with bright archival water resistant inks on velvety smooth lightfast acid free pH neutral 100% α-cellulose German Etching paper by Hahnemühle who's papers have been prized in European houses of nobility for centuries for their highest levels of craftsmanship and superb durability. 
Only 500 Rambutan Night illuminations each of four sizes (one featured here) will be made from the original 6.5"x9.75" colored pencil and gold illumination of the same name. When I lived in Japan I discovered a way of looking at colors and pattern that surprised me. When I saw some kimono's being worn first hand for New Year's, I noticed a great many layers of cloth of different colors and patterns being used to create a very harmonious ensemble. This illumination was inspired by beautiful design style. © BKS 
---
More from this collection